.
.
Funny how decades of increasing seasonal sea ice in the Antarctic were ignored or somehow explained away, but a glimmer of a retreat and it's banner headlines everywhere. Confirmation bias?

Let's see whether we get a multi-year trend along the same lines in this region. If not it will look like a one-off weather pattern, as seems very possible.
NOT A LOT OF PEOPLE KNOW THAT
By Paul Homewood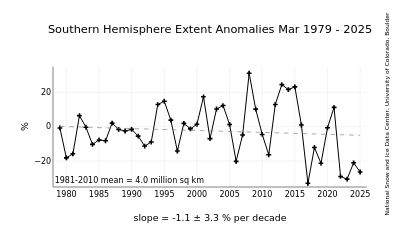 http://nsidc.org/data/seaice_index/
While Arctic ice extent has been at low levels lately, coincidentally, strange things have been going on down under.
Bucking the trend of recent years when Antarctic sea ice extent has been steadily rising, it has dropped away in the last few months.
Naturally this has led to the alarmists having a field day. I have, however, used the word "coincidentally" deliberately, as there is no evidence whatsoever that the Arctic and Antarctic events are connected. Or that the latter has anything to do with global warming.
So what has been happening in the Antarctic? NSIDC offer a clue in their October edition of Arctic Sea Ice News, after it reached winter maximum on a record early date:
View original post 451 more words