.
.
Introducing 'STEVE and the green pickets'. This summer, researchers confirmed that STEVE is not an aurora, but is instead a unique phenomenon.
Spaceweather.com
Sept. 5, 2019: Sky watchers are still sorting out all the things they saw during last weekend's Labor Day geomagnetic storm.  Upon further review, not every light in the sky was the aurora borealis. There was also STEVE: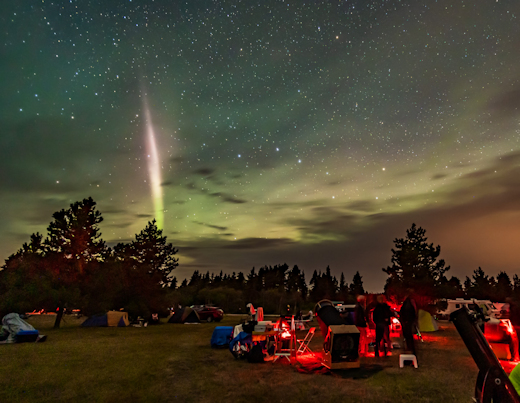 "Look at the mauve-colored plume. That's STEVE," says Alan Dyer, who took the picture at the Saskatchewan Summer Star Party on Aug. 31st. "We saw STEVE two nights in a row from our area in western Canada."
STEVE (Strong Thermal Emission Velocity Enhancement) looks like an aurora, but it is not. The phenomenon is caused by hot (3000°C) ribbons of gas flowing through Earth's magnetosphere at speeds exceeding 6 km/s (13,000 mph). These ribbons appear during some geomagnetic storms, revealing themselves by their soft purple glow.
Earlier this year, researchers led by Toshi Nishimura of Boston University published an important paper about STEVE. Using data from NASA's THEMIS spacecraft, they…
View original post 293 more words