.

The obvious question being – why?
Spaceweather.com
June 3, 2021: No it's not your imagination. Noctilucent cloud (NLC) season really is getting longer. New data from NASA's AIM spacecraft show the first NLCs of summer have been trending earlier since the spacecraft was launched in 2007. This plot prepared by Cora Randall of the University of Colorado's Laboratory for Atmospheric and Space Physics shows the change: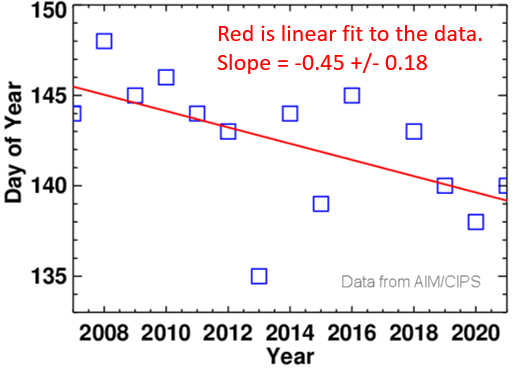 Each little blue box shows the day of year when AIM's CIPS sensor detected the first NLC of northern summer. "The season appears to be starting earlier, which is making it longer by about 5 days," says Randall.
Interestingly, the season is not also ending later; it still stops in August. Nevertheless, the early start is giving sky watchers an extra 5 days a year of noctilucent clouds.
The first NLCs of the season typically appear inside the Arctic Circle. Then, they spin outward to lower latitudes–a process which is…
View original post 70 more words