.
.
Looks like the risks were seriously underestimated if this was only a minor geomagnetic storm.
Spaceweather.com
Feb. 9, 2022: As many as 40 Starlink satellites are currently falling out of the sky–the surprising result of a minor geomagnetic storm. SpaceX made the announcement yesterday:
"On Thursday, Feb. 3rd at 1:13 p.m. EST, Falcon 9 launched 49 Starlink satellites to low Earth orbit from Launch Complex 39A (LC-39A) at Kennedy Space Center in Florida. … Unfortunately, the satellites deployed on Thursday were significantly impacted by a geomagnetic storm on Friday, [Feb. 4th]."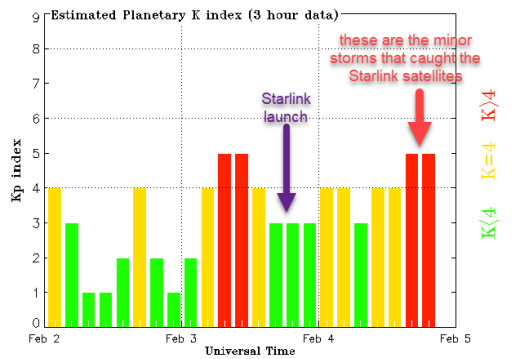 Two days before launch a CME hit Earth's magnetic field. It was not a major space weather event. In fact, the weak impact did not at first spark any remarkable geomagnetic activity. However, as Earth passed through the CME's wake, some sputtering G1-class geomagnetic storms developed. It was one of these minor storms that caught the Starlink satellites on Feb. 4th.
Geomagnetic storms heat Earth's upper atmosphere. Diaphanous tendrils of warming air literally reached up…
View original post 159 more words