Spaceweather.com
Nov. 25, 2022: The British Astronomical Association (BAA) is reporting a new outburst of cryovolcanic comet 29P/Schwassmann-Wachmann. On Nov. 22nd, the comet's nucleus suddenly brightened by more than 4 magnitudes–a sign that a major eruption was underway. Cryomagmatic debris is now expanding in a shell shaped like Pac-Man: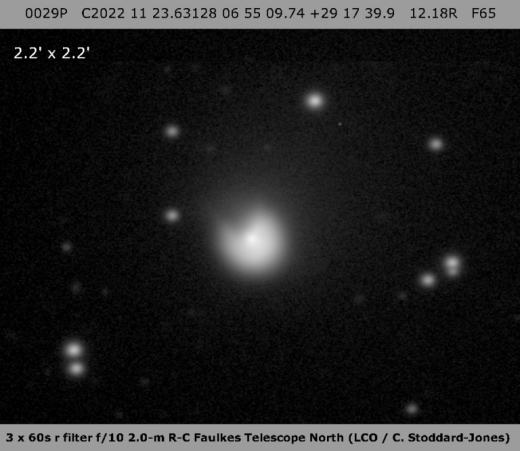 Cai Stoddard-Jones took the picture on Nov. 23rd using the Faulkes Telescope North in Hawaii. At the time, the shell was already more than 100,000 km in diameter.
The Pac-Man shape of the ejecta shows that this is not a uniform global eruption. Instead, it is coming from one or more discrete sources on the comet's surface.
This fits a leading model of the comet developed by Dr. Richard Miles of the British Astronomical Association. Miles believes that 29P is festooned with ice volcanoes. There is no lava. The "magma" is a cold mixture of liquid hydrocarbons (e.g., CH4, C2H4, C2H6 and…
View original post 230 more words