Spaceweather.com
March 24, 2023: Forecasters did not see this one coming. On March 23-24, auroras spread into the United States as far south as New Mexico (+32.8N) during a severe (category G4) geomagnetic storm–the most intense in nearly 6 years. The cause of the storm is still unclear; it may have been the ripple effect of a near-miss CME on March 23rd.
"Aurora pillars were visible from Shenandoah National Park in Central Virginia," says Peter Forister, who photographed the light show at latitude +38.7 degrees: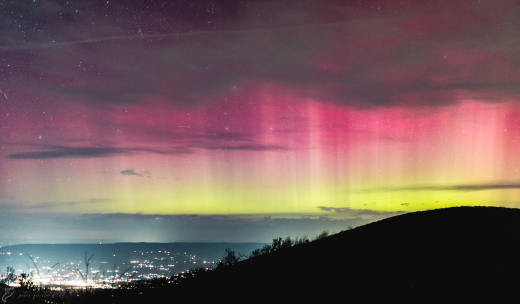 "Beautiful red and green colors were visible to the naked eye around 11 pm local time," he says. Other notable low-latitude sightings were made in Colorado (+38.7N), Missouri (+40.2N), Colorado again (+38.3N), Nebraska (+41N) and North Carolina (+36.2N). More than half of all US states were in range of the display.
Not every light in the sky was the aurora borealis, however. There was also
View original post 198 more words